A Comfortable Flight with your Baby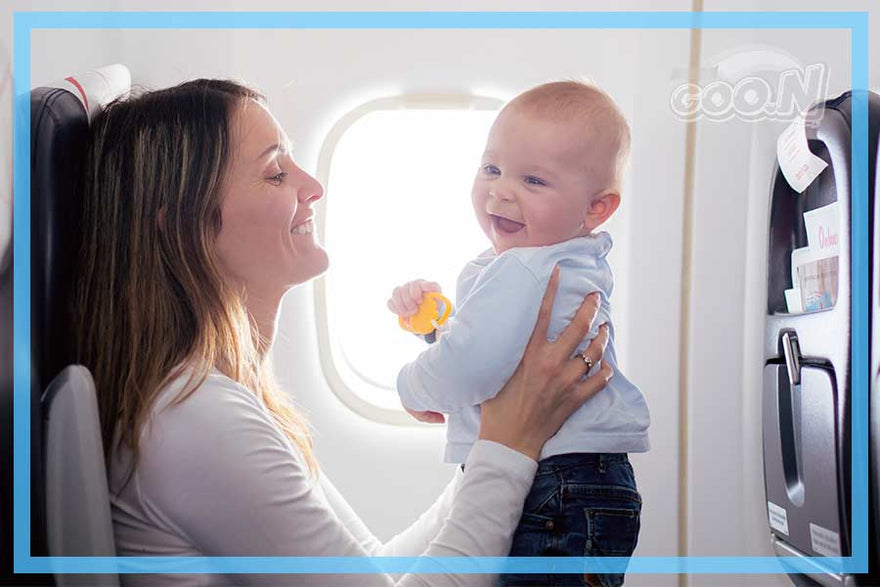 During a flight, the human body experiences the stress. Naturally, the baby's body suffers much more from the changes.
How to make a flight comfortable and easy for your baby, yourselves, and other passengers?
1. Tell your baby about the flight
Talk about a plane with your baby beforehand, look at pictures together, find cartoons about it. Sometimes children are afraid of the noise of the plane therefore if your baby knows what a plane is, he or she will be calmer. 
2. Take the favorite toy along
Your child and you can tell it what you see around, teach it how to behave on a plane, think out adventures in your destination place.
3. Let your child draw
Prepare a lot of sheets of paper, print out some pictures to color and, of course, take pencils. Draw how the plane flies in the sky, a pilot and stewardesses, your destination place, the map of your adventures on holidays.
4. Look out the window together
You can show how everything becomes tiny as the plane is rising higher, how everything flies fast below you. And again, how everything becomes larger when the plane is landing.
5. Have physical activity breaks
Walk around the cabin to distract the baby and let him or her move a little. If your child has a separate seat, take off their shoes and let them stand up, do a few funny exercises. Children get tired of seating and such moments help improve the situation.
6. Read books
Take a few interesting books along, read them with your baby, look at pictures, discuss the plot if the age and vocabulary allow.
7. Try modeling
A mini modeling clay or kinetic sand kit will be perfect. Model something: flowers, caterpillars, butterflies. This can attract the baby's attention for a long time.
8. Take a glove puppet along and have a mini play
It will be funny especially because you can think out the plot together with your baby.
9. Buy a new toy
Don't show it until the flight and use it as the plan B. The effect of a new toy will help you.
10. Entertain your baby with finger games
Children will like them. Learn a few interesting rhymes and poems.
11. Watch cartoons on a tablet
A lot of parents use it to calm down their child. However, we recommend it as a last resort because children get more capricious and their sleep is worse. Along with the jet lag and change of environment, this method can turn against yourselves.

Pay special attention to diapers. You won't have to worry with GOO.N. Other passengers and you will be happy throughout a long flight.

As a conclusion, we'd like to note that the sleep is a perfect thing to do for a child during a flight. Try to get your baby to sleep. Parents should keep calm even if their children are misbehaving and try to distract them with various activities again and again. Change activities more often using different games and your flight will be smooth.